Police were called to Clacket Lane services, between junctions five and six, on Friday morning after reports "of concern for safety" over a group of suspected illegal immigrants.
The driver of the white HGV stopped when he heard banging coming from inside and discovered the stowaways.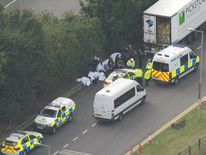 They have been detained on suspicion of illegal entry and have been taken to hospital for medical checks.
A family of four, including two children, were among those discovered.
Authorities also found a group of 11 males, including five who claimed to be minors.
The slip road to the petrol station on the clockwise carriageway was closed.
The lorry driver is assisting officers with their enquiries.
A police spokesman said the investigation will be passed to UK Visas and Immigration shortly.